Have you already visited Zaragoza, but would you like to know more about its surroundings? Would you like to discover the best day trips near Zaragoza? In this article we bring you the best getaways near the capital of the Ebro river, so you can enjoy a wonderful day in the middle of nature.
The 10 best day trips near Zaragoza
If you have come to the city for tourism, leave your belongings in our luggage lockers in Zaragoza center and enjoy one of the following day trips near Zaragoza without loads. One of the best alternatives is to do it by bus, since the routes we are going to see are close to Zaragoza.
1. Monasterio de Piedra
Distance from Zaragoza: 109 km (1h 15 min)
The Monasterio de Piedra, founded in the 13th century, is an ancient Cistercian monastery surrounded by a beautiful natural park. Famous for its waterfalls and natural landscapes, it is one of the most popular tourist destinations in all of Aragon. Visitors can explore its cloisters and gardens, as well as enjoy the spectacular waterfalls and grottoes in the natural environment. The Bath of Diana, the Caprichosa Waterfall, the Iris Grotto and Waterfall, the Horse Tail, the Mirror Lake… a fantastic environment for both adults and children.
2. The Old Town of Belchite
Distance from Zaragoza: 63 km (42 min)
The Old Town of Belchite, near Zaragoza, is an abandoned village that retains the scars of the Spanish Civil War. It was the scene of heavy fighting and bombing in 1937 and has remained in ruins ever since as a monument to history. Its desolate streets and crumbling buildings tell the story of a past conflict. Today, the site is an open-air museum and a reminder of the devastation of war. Visitors can explore its ruined streets and buildings, immersing themselves in a unique and moving historical experience. Next to it, the Pueblo Nuevo (New Town) was erected.
3. Alquézar and the footbridges of the Vero River
Distance from Zaragoza: 127 km (1h 30 min)
North of Zaragoza, already in the province of Huesca, is the beautiful village of Alquézar, known for its stunning natural environment and its hanging walkways. Surrounded by the Natural Park of the Sierra and Canyons of Guara, Alquézar offers spectacular views and outdoor activities such as hiking and canyoning. The hanging footbridges over the Vero River allow visitors to explore the canyons and enjoy nature and adventure, offering a unique experience in a picturesque setting with a well-preserved historical heritage. All this makes Alquézar one of the best day trips near Zaragoza.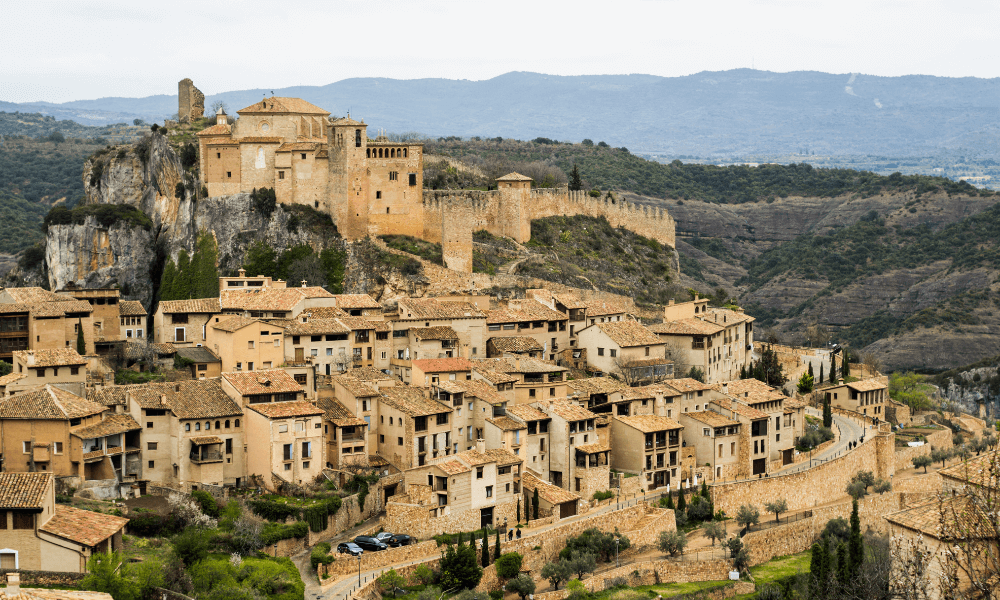 4. Loarre Castle
Distance from Zaragoza: 104 km (1h 5 min)
Loarre Castle, located in the province of Huesca, is a medieval fortress built in the eleventh century. It is one of the oldest Romanesque castles in Spain. Its impressive architecture includes walls, towers and a church, and offers panoramic views of the surrounding area. It is an outstanding example of military architecture of the period and has been used in several films, such as Ridley Scott's Kingdom of Heaven. You can explore places such as the crypt of Santa Quiteria, the Church of San Pedro, the Torre de la Reina and the Torre del Homenaje, enjoying an enriching experience that combines history and architecture in a unique environment.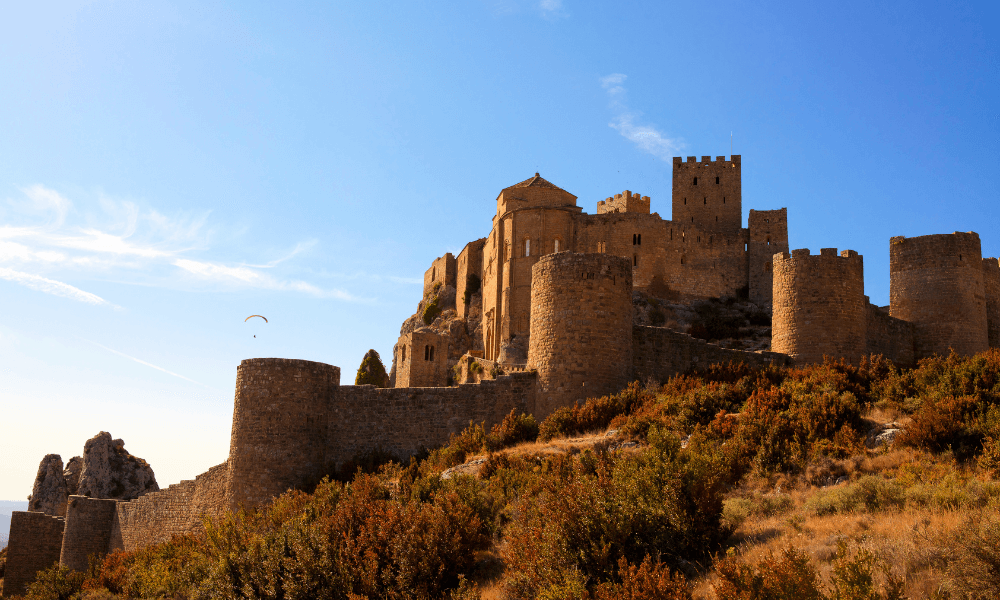 5. Enchanted Forest of Bureta
Distance from Zaragoza: 60 km (43 min)
Families with children, this is for you! The Enchanted Forest of Bureta, also known as Burosque, is a small place full of tree houses made with natural and recycled materials where "the magic" of fairies, elves and all kinds of fantastic creatures and dolls that will delight the little ones. One of the best excursions near Zaragoza for families with children.
6. The Mallos of Riglos
Distance from Zaragoza: 118 km (1h 22 min)
The Mallos de Riglos, formed more than 65 million years ago, are imposing rock formations located in the province of Huesca. These gigantic vertical walls of more than 250 meters high attract climbers from all over Spain. But in addition to climbing, visitors can enjoy hiking trails that offer unique panoramic views of the area. Griffon vulture watching is also a popular attraction in the area. And, although not as popular, we recommend that you also visit the Mallos de Agüero, very close to Riglos.
7. Albarracín
Distance from Zaragoza: 183 km (1h 55 min)
We go to the province of Teruel to reach one of the most beautiful villages in Spain (in many rankings is placed in the Top 3). We are talking about Albarracín, a somewhat more distant excursion than the previous ones but certainly worthwhile. Its cobbled streets and earth-colored buildings retain that medieval charm of so many years ago. The village is surrounded by walls and offers panoramic views of its mountainous surroundings. Its beauty does not seem real, but fortunately it is.
8. The Moncayo peak
Distance from Zaragoza: 130 km (2h 5 min)
The Moncayo is the highest mountain in the Iberian System, located on the border between Aragon and Castilla León. With an altitude of 2,315 meters, the Moncayo Natural Park is a popular destination for hiking and other outdoor activities. At its summit is the Sanctuary of the Virgen del Moncayo, a spot that offers stunning views of the surrounding lands. A great 1-day excursion near Zaragoza for trekking lovers. At the end of the route, you can visit the beautiful town of Tarazona.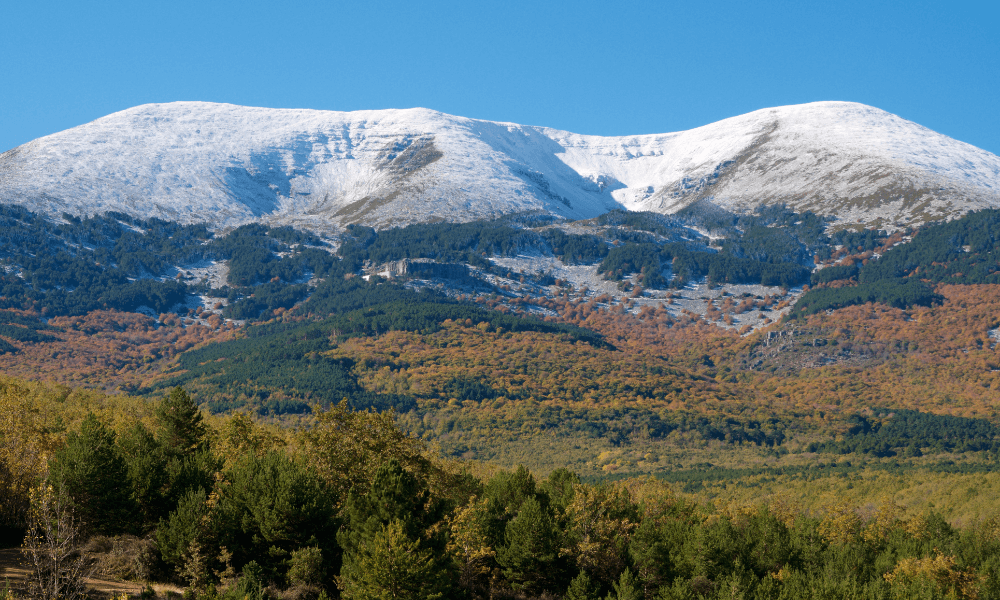 9. Matarraña region (Beceite, Valderrobres…)
Distance from Zaragoza: 150 km (1h 50 min)
The region of Matarraña is one of the most beautiful of all Aragon, not for nothing is popularly known as "the Aragonese Tuscany". Villages like Valderrobres or Beceite are some places you can not miss. If you visit this area, do not miss the most famous route of Matarraña, known as Ruta del Parrizal de Beceite, an excursion that runs through a canyon formed by the Matarraña river and offers visitors the opportunity to walk along wooden walkways suspended over the water. A route known for its natural beauty, with impressive rock walls and pools of crystal clear water. No doubt, top ten best day trips near Zaragoza.
10. Buddhist Temple of Panillo
Distance from Zaragoza: 170 km (2h)
It looks like Tibet, but it is Aragon. We are talking about the picturesque Buddhist temple of Panillo, also known as Dag Shang Kagyu temple, in the province of Huesca. Founded by Lama Gendun Rinpoche, it is the first Tibetan Buddhist temple in Spain and is a center of study, retreat and practice of Tibetan Buddhism framed in an environment with stunning views of the Pyrenees. Visitors to this 1-day getaway near Zaragoza can participate in meditations and learn about Buddhist culture, as well as see in person the typical constructions and sculptures of this religion.
As we can see, Aragon has wonderful places to discover, so you can take a day trip near Zaragoza that will show you places of unsuspected beauty. Choose your favorite place, leave your luggage in our luggage storage in Zaragoza, and get on the road!